The Ultimate Folding Chairs Buyer's Guide
Why Folding Chairs?
For the sake of this guide, we're going to assume that you're looking to buy folding chairs in bulk, or otherwise for commercial use. So we'll be focusing on several types of folding chairs popular for the special event market and generally used for large gatherings of people. Chairs like these are generally manufactured with strict guidelines for strength and durability and thus suitable for commercial use.
That said, you're shopping for foldable chairs because you're concerned about space and portability. Folding chairs take up less space when stored, and can be easily moved by hand or with some kind of dolly or cart.
There are a handful of chairs that have become the staples of special event seating - kind of like cars with 4 wheels. Other variations exist, but you'll see the same types of chairs over and over again, in all parts of the country because these chairs have proven to be the best with respect to appearance, portability, strength, and storability.
Folding chairs take up less space when stored, and can be easily moved by hand or with some kind of dolly or cart.
Types of Folding Chairs
There are five types of folding chairs that make up the vast majority of folding chair sales to event centers and others in commercial applications.
Plastic Folding Chairs
These chairs are by far the favorite with party rental companies, particularly when they are just starting out or if they are doing very large events.
Plastic folding chairs consist of a tubular metal frame with a molded plastic seat and backrest. They fold up to about an inch thick.
The genius of the plastic folding chair design is that when the chairs are folded, they ''nest'' together so you can lay one on top of another, and so on, and then when you have 50 or so in a stack you have a solid stack of chairs that won't slip off of each other.
Another great feature of these chairs is tubing between the rear legs. It's flush with the ground, which keeps the back legs from sinking into a soft surface, like grass.
When folding up a plastic folding chair, put your foot on this tubing in the back and lift up on the backrest. Doing so will fold up the chair and make an event breakdown like lightning. Don't believe me? Watch...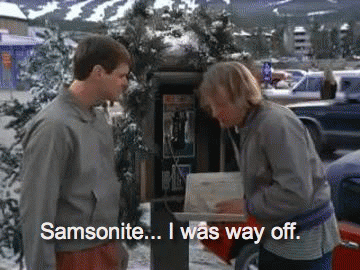 You'll hear people call these ''Samsonite Chairs'' or ''Polyfold Chairs'' as well. The Samsonite company was the original manufacturer of the modern plastic folding chair design, so many in the business still call them Samsonite chairs, or Sams.
Nowadays, a number of manufacturers produce this style of plastic folding chair. Many chairs will inter-stack with those produced by other manufacturers as well. Some differences you'll find between plastic folding chair manufacturers:
The plastic, recycled or virgin polypropylene
Thickness of the legs
Stainless or zinc-coated hardware
Is the plastic screwed or riveted to the frame
Weight rating
We've seen these chairs for sale as low as $7 each, and as high as $18 each for chairs made in the USA. Our advice: strongly consider plastic folding chairs , but don't buy the cheapest chairs. Not only is it possible that you'll be buying a chair made from sub-par materials, but you may be buying from a less than reputable company. Call and ask questions, order a sample, check the Better Business Bureau and read online reviews before buying in bulk.
Our buying recommendation:
Buy plastic folding chairs if you're looking for a strong chair that is super easy to move and takes up very little space.
Avoid these chairs if you seek a more upscale look, or wish to command a higher rental rate.
A popular variation of these chairs that you may consider are the fan back plastic folding chairs. The only difference is the backrest, which features a fan design that is larger vertically than traditional plastic folding chairs. For comfort, this is a plus. There is also an integrated carrying handle which can help greatly with setups and teardowns.
Wood Folding Chairs
In our opinion, wooden folding chairs are a huge step up from plastic folding chairs in terms of appearance. You just cannot beat the natural look and feeling of wood.
Wooden folding chairs can be made from a variety of different woods. We've seen them in oak, birch and beechwood. They generally have a curved plywood backrest, and a framed seat with a removeable vinyl-covered plywood seat.
The removeable seat is a big deal, because it makes cleaning these chairs easier. It's also easy to reupholster the seats or buy replacement seats.
Wooden chairs have a thicker frame, generally between 2-3''. That means that when stacked, they take up about twice the amount of space when compared to plastic folding chairs.
Wooden chairs don't have a built-in nesting mechanism that keep them from sliding off one another. We've seen little plastic pieces that you can screw to each chair to help keep the chairs stacked. Alternatively, we recommend strapping chairs together when stacked so they don't tip over.
One thing to consider about wood folding chairs is that the natural wood is more susceptible to scratches and damage than many other types of chairs. Most of this damage happens when stacking and transporting the chairs, so it is highly recommended to consider folding chair bags. They'll keep the chairs protected and will vastly improve the life of your chairs.
Our buying recommendation:
Buy wooden folding chairs if you want elegant, natural, yet more informal special event seating. Particularly the stained colors like fruitwood, mahogany, and natural.
Avoid these chairs if you have extreme weight rating needs, or just will not cover them up for storage and transport.
Resin Folding Chairs
Personally I think these are the best folding chairs we sell. Resin folding chairs were made to look like wooden chairs, with the same frame dimensions and seat design. But unlike wood, resin chairs are molded to improve stackability with a special design under the seat so they nest with the chair underneath.
Resin chairs are molded from polypropylene, for more uniform strength characteristics than wood. Because of this, colors of resin folding chairs are limited, and there is no wood grain available.
Early chairs were subject to yellowing in prolonged exposure to the sun, but that has since become less of a problem as most manufacturers are using UV protectants in the molding process. That said, it is worth checking with your supplier to ensure their chairs are UV protected.
Resin folding chairs are easy to clean and maintain. In most cases, they can be wiped with a damp rag in between events to keep them looking great.
Specifications can vary widely between folding chair manufacturers. Some things to compare among suppliers:
Seams - each piece of the chair is made with a two-piece mold. Some manufacturer's chairs have larger/more visible seams than others.
Weight - heavier weight isn't necessarily a good thing with resin folding chairs. Strength comes from materials and construction. Excess weight will cause more fatigue during event setups.
Weight rating - ask about the weight rating.
Stacking - we've seen some chairs that are uniformly ''off'' just a bit, creating a skewed stack. Make sure your supplier's chairs will stack perfectly straight up and down.
Resin folding chairs are a great choice for event venues, party rental companies, concert venues and convention halls. White resin folding chairs are the perfect wedding chair.
Our buying recommendation:
Buy resin folding chairs if you will have weddings at your venue, plain and simple. White as well as other colors are the perfect special event chair.
Avoid these chairs if you are looking for natural wood grain.
Metal Folding Chairs
These chairs have been around as long as there were folding chairs in general. Known for their strength, commercial grade metal folding chairs are most commonly found in convention centers, schools, churches, meeting halls and event centers.
In addition to usage versatility, you'll find that there are more combinations of colors and upholstery than many other folding chairs. You can buy metal folding chairs in plain powdercoated steel (painted), several different colors of fabric padded folding chairs, and for easier maintenance, many vinyl padded options.
These chairs are not as commonly used in party rental companies, because even though they fold up, these chairs do not stack one on top of another, like the chairs discussed above. And if you're in the party rental business you know that you like to deliver chairs in stacks to event sites.
Not to fear. There are carts specifically designed for metal folding chairs, that in some cases offer more space savings than simply stacking chairs. Many facilities choose a hanging chair cart, which features two levels of storage racks on on a single frame with wheels for easy transport.
Styles and features vary among manufacturers, so look for a few key features of metal folding chairs for differentiation:
Frame thickness (gauge) - a smaller number means thicker steel and potentially a heavier chair
Single or double hinges - to help determine strength and durability
Powdercoated or liquid painted frame
If padded seat, the thickness of the padding
If fabric padded, the quality of the fabric
Availability of replacement accessories
Our buying recommendation:
Buy metal folding chairs if you're looking for a strong, reliable chair and want more options for color, padding and upholstery.
Avoid these chairs if you are buying for a party or tent rental company, as you will be reliant on carts that can be difficult to load on and off trucks.
Blow Mold Plastic Folding Chairs
You'll see these chairs for sale at places like Walmart and Home Depot, usually sold in singles or pairs. However, many companies choose to buy blow mold folding chairs in bulk online for lower pricing and ease of delivery.
The blow molding process (the same manufacturing process used for many plastic folding tables) makes chairs with a thicker, hollow seat and back. This process yields chairs that are larger and just as light. Many of the blow molded chairs I've sat in are also quite comfortable.
The downside of this style of chair is the same as metal folding chairs - you cannot stack these chairs one on top of the other. The same solution exists though, by using a specially designed cart for storage.
Blow mold folding chairs are popular with churches and event centers, particularly when purchased with plastic folding tables, with matching plastic and frames for a cohesive look, with or without tablecloths.
Our buying recommendation:
Buy blow mold folding chairs if you're looking for an indoor/outdoor seating option that is lightweight and comfortable.
Avoid these chairs if you need to deliver in stacks, or if floor space is a concern.
Bamboo Folding Chairs
One look at these chairs and instantly tiki parties come to mind, with Mai Tai guzzling guests lounging in Hawaiian shirts. Or maybe that was just me at the last party I attended. Either way, bamboo folding chairs are popular for themed events, or just for extra seating poolside.
You may not think so, but they're surprisingly comfortable. Thoughtfully designed, bamboo chairs have a large curved back and a seat that naturally frames in your hindquarters. Sadly, we haven't seen a model with an integrated drink holder.
Bamboo folding chairs are popular with party rental companies, as they are relatively low-cost but also a higher dollar rental item compared to other types of folding chairs. The downside is that although these chairs do fold up for storage, they don't nest and stack together, making for a more labor-intensive delivery.
Our buying recommendation:
Buy bamboo folding chairs if you already have several types of folding chairs in your rental arsenal, and are looking for theme-party suitable chair.
Avoid these chairs if storage space is limited and you're short on people to help with deliveries and setups.
Return on Investment Chart
The way I look at chairs, it's all about value. People buy folding chairs for their homes, pay money, and in exchange they get easy portable seating for friends and family. Their return is priceless family time and laughter.
Business customers, whether all of them realize it or not, get the same value but in return on their investment. It's either straightforward ROI - like in a party rental situation - where $25 spent on a chair yields $2.50 with each rental. In other words, with 10 rentals you have a 100% return on your investment.
Other types of businesses or organizations, like event venues, convention centers, churches get the same ROI. In their case, they buy so they don't have to rent. So on top of getting a return on investment, the convenience of owning and avoiding deliveries, etc. adds to the overall value.
Check out our blog, for 10 Reasons Why Venues Should Provide Rental Furniture
That said, in order to help you make the best decision we've created this handy return on investment chart. It is by no means a hard and fast set of pricing, but more of a guideline based on wholesale folding chair pricing we've seen on EventStable and elsewhere on the web, as well as an average of rental prices from across the country.
| Folding Chair | Delivered Cost | Rental Rate | Return Rate (# of rentals to return on investment) |
| --- | --- | --- | --- |
| Plastic Folding Chair | $11.99 | $1.25 | 9.59 |
| Resin Folding Chair | $24.99 | $2.65 | 9.43 |
| Metal Folding Chair | $22.99 | $2.99 | 7.68 |
| Wood Folding Chair | $24.99 | $3.49 | 7.16 |
| Bamboo Folding Chair | $35.00 | $4.25 | 8.23 |
Hopefully that helps you make an educated decision. Again, you may find the cost of the chairs or the rental rate in your area to be higher or lower. If nothing else, this should serve as a rough guideline as to whether you think you'll make your money back in the first season!
Cleaning and Maintenance
A big part of owning your own folding chairs, whether for rental or not, is keeping them clean in between events and maintaining them to maximize your investment return. After all, folding chairs don't really go out of style, so buying quality and keeping them in great shape is the way to go.
There are all types of ways to clean your folding chairs. You can spot clean with some Simple Green or a damp rag, bust out the Mr. Clean Magic Erasers, employ a homemade chair washing machine, or even spend big bucks on a commercial folding chair washer.
We've written quite a bit about how to clean folding chairs on our blog. For some ideas, check out these posts:

http://www.eventstable.com/blog/the-best-effective-non-bleach-cleaners-for-white-folding-chairs/
http://www.eventstable.com/blog/th e-best-way-to-clean-white-resin-folding-chairs/
https://www.eventstable.com/blog/a-great-way-to-wash-folding-chairs/
As for long-term maintenance, it's important to perform routine checks to ensure your chairs are safe and functioning as they were intended. Each year or so, perform an inspection of each chair and look out for:
Any cracks in plastic
Broken welds
Broken brackets
Missing screws
Broken rivets
Cracks or signs of weakness in legs/frame
In addition to safety concerns, you may be missing feet caps or bolt covers on your chairs. After all, you want to keep your stock looking great. Most manufacturers will sell replacement feet caps, bolt covers and any other items that may become separated from your chairs over time. Generally these parts are inexpensive, so buy more than what you need at first so you always have some on hand.
Where to Buy Cheap Folding Chairs
We get it, everyone wants a deal. Especially on a potentially large purchase like bulk folding chairs. That said, please be smart. I warn against buying the cheapest folding chairs for a number of reasons.
The first is more obvious. In order to produce a lower cost item than the rest of the market, manufacturers have to cut corners. This could mean secondhand materials, manufacturing shortcuts, and overall a lesser quality chair.
Lesser quality equates to a shorter lifespan, which of course reduces your return on investment. It also potentially opens you up to liability issues. After all, they say ''buy nice or buy twice'' for a reason.
The second reason to be careful buying cheap folding chairs is that you run the risk of buying from a, we'll say ''less than reputable'' seller. There are, unfortunately, sellers out there looking to make a quick buck with no concern for repeat business or their customer's success.
Even worse, there are many reports of cheapest-chair-sellers never shipping the chairs at all! Our advice: do your research. Investigate the seller. Check the Better Business Bureau and sites that expose rip-offs. A few minutes of research can save you thousands.
Know Before You Order
Once you've made the decision to buy folding chairs and have settled on the style and quantity, be prepared to accept delivery. Ask your vendor questions:
When will the chairs be delivered
How will they be delivered? On pallets? The UPS guy?
What if I don't have a loading dock or a forklift?
We're in a residential neighborhood. Will the truck deliver here?
How much space will the chairs take up in storage?
Once you're confident you know how you'll handle your new delivery of folding chairs, don't forget about what you'll do with the pallets and packaging materials. Chairs come in boxes, and there's a whole lot of cardboard in a shipment of 300 folding chairs.
In addition to storage considerations, don't forget to ask your vendor for recommendations on how to transport, and on what to store, your new folding chairs. There are generally a few different options for carts and dollies for each type of chair, and your supplier should be able to provide the right solution.
For more help determining the best way to transport folding chairs:
http://www.eventstable.com/How-to-best-transport-folding-chairs_ep_60.html
Where to Buy the Best Folding Chairs
The best folding chairs come from a supplier offering the best quality chair at a great price, delivering value throughout the whole buying process.
So what are the best folding chairs? Well, the best chairs for rental aren't necessarily the best chairs for the Elks Lodge. That's why we hope you've read this article - you didn't skip down to this part, did you?
We feel that the best folding chairs can be found right here at EventStable.com. We're happy to help answer your questions and supply a great product, with awesome service at a great price.
If you found this article helpful, please share!